A while back you loyal follows may remember that I had a call for
Well, I'm thrilled to share that I had a number of interested women jump at the chance to share their creative talents with us! Each of the women that I've chosen to join the Creative Team have a unique skill set or crafting interest and I think you readers will benefit from the diversity within the group. I've asked each of the women to create for us one project a month and the first up for the month of October is
Arline
!
First, let me allow Arline to introduce herself:
I am from the beautiful Northwest Corner of Connecticut. I am retired and love it. I am married to Richard, a wonderful man who puts up with my passion.
I am the Mother to three, Kevin, Carl and my lovely daughter Grace. She is a special needs young lady who has taught me what life is really about. Thus, my business is a tribute to her beauty, her strength and her ability to make the people around her a little happier. When creating, I try to put that into all that I create.
My Mom always said "Elegant is always in fashion"
I am a Team Designer with Altered Pages.
I am a grandmother to 4 and the Mom to 4 dogs, 2 poodles; Brutus & Ceasar and 2 Pappillions, Bandet & Radar. I am never alone in my studio.
I have been a crafter all of my life and I would not change a thing!
I am known as "The Hat Lady" because I still believe that a hat is the most important part of a woman's wardrobe.
I'm so incredibly thrilled to have Arline with us. If you take a look at Arline's page you'll see that she creates some of the most beautiful vintage paper goods! And here today, she's showing us how to create a vintage magnetic board!!
How to Make
Materials
12x12 sheet aluminum (Home depot)
12x12 card stock for back
Black card stock
Modge Podge
Foam Brush
Magnets (Home depot)
Drill & bit for holes (Home depot)
Tim Holtz "dress form die"
Black acrylic paint
Wire, cording or ribbon for hanging
Lace
Instructions
1) Take your drill and make two holes in the top of the aluminum sheet.
2) Coat the aluminum sheet with Mod Podge and apply your designer paper.
3) Smooth out paper. Make sure to remove all air pockets under the paper.
4) Punch out holes in the black cardstock to line up with the holes you put in the aluminum sheet with a paper punch.
5) Apply a second heavy coat of modge-podge onto the designer paper and let it dry.
6) Attach lace around the edge of your board.
7) Cut out the dress die, color it black, and attach it to one of the magnets. (I also added lace to the bottom of the form to further adorn it.)
8) Repeat step 7 to other sewing themed cut outs and attach to magnets. (spools, buttons, etc)
9) Attach the black cardstock to the back of board.
10) Attach your wire, cording or ribbon to the top of the board.
11) Hang and enjoy!!!!
Where to Buy
If you are looking for a vintage inspired magnet board but not interested in making one yourself, I found a pretty one on Etsy in the shop
ekohdesign.
I love the vintage cutlery set! Check out their shop
here
.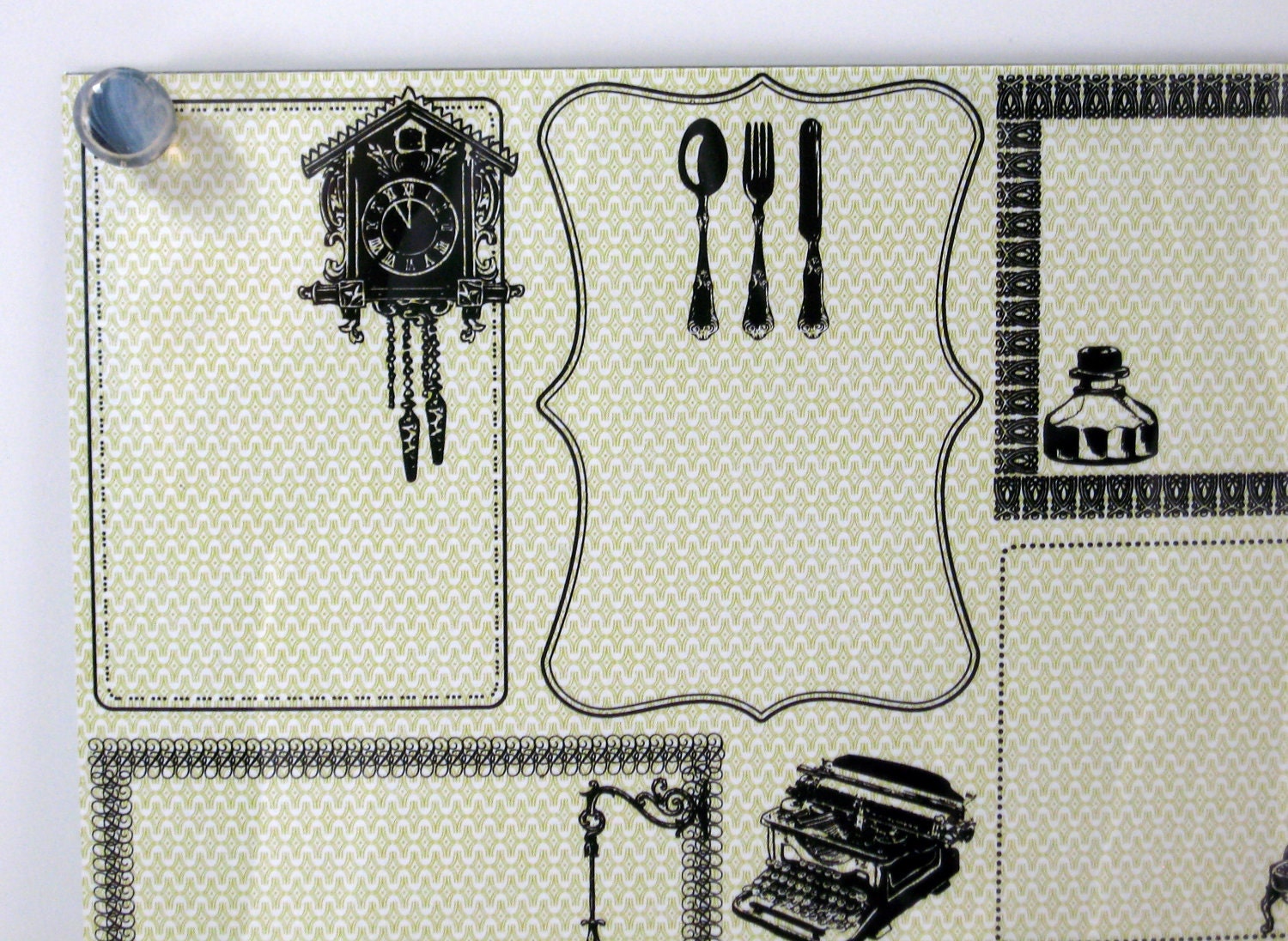 Thank you so much for sharing this wonderful vintage inspired project with us Arline! I think this would be a wonderful gift or a fantastic addition to my craft room! I can't wait to see what other projects you have in store for us!!