I know what you're thinking. "Really Sarah? Another flower?!" I completely agree, except I can't help myself! I see these pretty flowers and want to recreate them. It's a challenge to try and make them look as pretty in paper as they do in real life, and sometimes I'm fairly successful.
Anyone whose gotten married or knows their flowers, also knows that the stephanotis flower, a.k.a. "Bridal Veil" is super expensive. I think I bought 30 blossoms for my wedding and it cost more than I'd like to admit. But the shape of the flower itself is pretty basic, so I figured, after the ranunculus, this should be fairly simple! I used this picture to form the template:
And here is what I was able to come up with:
I mean, they're not perfect, but pin them in the bridesmaids hair, accent your bridal bouquet with them, or wrap a few up pretty in a boutonniere and I think nobody would be the wiser. And the best part is that you could make 30 of them for what it costs to buy a couple sheets of card stock! You don't need an electronic cutter for this project, but like with all paper projects, it sure makes it easier, especially since these blooms are real life size at only 1.75" :)
The Template
I've provided free access to this template to all subscribers. To become a subscriber you just need to "Follow" my blog through Google Friend Connect or your preferred RSS feed (you'll find the widget to join to the left of this post), then access my blog feed through your Google Reader or other RSS feed. Each post will have an additional link at the bottom of the post that says "Subscriber Only Downloads and Templates!" Click on this link and you'll be taken to a subscriber only page on my blog where you'll find the download links. One of the many benefits to being
a D.I.Y. or Don't! fan!

**Note: if you have ANY issues locating the downloads, let me know, I'll be happy to provide you with the link! Also, the full template is provided in .studio format and JPEG format.**
How To Make
Materials Needed:
1 sheet cardstock
template (see above)
floral pin
floral wire
floral tape
electronic cutter or pair of scissors
Instructions:
1) Cut out the flower shape.
2) I've designed the flower so that there is a little slit at the base of each petal, this is because real stephanotis petals overlap each other slightly. Press the base of the petal to the left over the bottom of the petal to the right. You'll want it to look like this:
3) Gently fold each petal in half lengthwise so that there is a faint crease down the center.
4) Now hold a petal between your finger and thumb, and with your other hand, gently brush your thumb over the edges of the petals in a front to back motion to smooth out the hard cuts of the paper. The goal here is to make the edges of the petals appear as though they curve towards the back of the petals, like they do in the real flowers. You'll see the effect of this step here:
5) Take a floral pin and add a dab of hot glue on the underside of it. Push the pin through the center of the flower and hold in place until the glue cools and the flower is stuck to the pin.
6) Take a small piece of floral wire and, using floral tape, fix the wire to the base of the floral pin.
7) Repeat steps 1-6 until you have as many as your little heart desires!
Where to Buy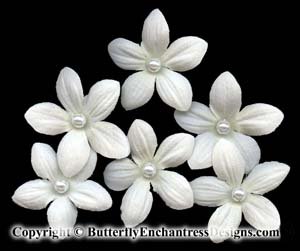 I would love to say that I have found an awesome seller of these little flowers, but I couldn't for the life of me find anyone who sells the paper stephanotis flowers. I did find a place that sells silk ones though, you can buy them 6 for $20 from
ecrafter.com
. I personally still think that's an outrageous price! I tell you what, I'll sell 2 dozen of them, along with the center gems, floral wire and floral tape for $6 plus shipping if you're interested. You can find them in my Etsy store
here
.