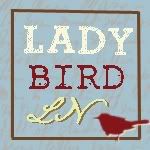 I recently received an email from Carlee at
Lady Bird LN
informing me I had randomly been selected from her Link Up party to be the next "Blog of the Week" and she was wondering if I wanted to participate. I immediately responded "Absolutely!" What a special opportunity! The only "requirement" she had to be featured is to write a little something about my blog. Well, that's easy! Sit back and relax folks, because this girl can talk! hehe.
Though the blog is only about 2 months old the concept of "DIY or Don't!" was born in the cold early-winter months of 2010 while I was walking our then puppy Cooper. (He's no longer a puppy but a full-size cuddle bug.)
Cooper
Hubby and I were recently engaged and, having always been a DIY kind of girl, knew I had about 1,000 craft projects ahead of me. I started realizing that there were some things that I was just going to have to buy, but I didn't really want to lose the hand-made theme that we were after. Enter
Etsy
. What a wonderful place! It's like a beautiful eternal craft fair full of artisans and crafters - like me - but for hire! So, I spent a good portion of my planning days bouncing between Etsy and conversing with sellers to custom make things for me, and the DIY sites with tutorials and inspirational ideas. Then suddenly it hit me. There should be a place where those who make (
martha stewart
style), those who inspire (DIY blogs and
craftgawker
) and those who buy (etsy style) unite. It was then that "DIY or Don't!" was born. The concept is actually much grander that what you see here, and I have some big things in store for you guys in the future, but for now I have a blog and try everyday to find balance between providing tutorials, inspiration and access to quality sellers.
And since we're it's what started it all (and I've secretly been wanting to find a way to share some of the pics with you anyways) here's a glimpse of our handmade/Etsy style wedding!